One of the best moments in childhood life was to watch the mesmerizing magic tricks in the live shows and getting amazed every time. Those magic tricks were the must-watch tricks in a child's life. Turning a burning paper into money and much more. Let's check out the truth behind it!
So finally we have revealed the truth behind the most famous magic tricks and it will shock you!
1. The Levitating Magic Trick, the interesting way!
Levitation is nothing but usually, we find these magic tricks people doing on the street or at the circus. The center of attraction is how a person can sit on the air without any support. But this isn't the truth. This is a very clever magic trick in which the magician hides the support by long cloth he wears.
In this picture, you may see the truth that a man is lying on the air because of his dress. This dress is made of metal structure attached to a weighted base and hidden inside his suit.
2. This picture reveals itself. That how this tricky magic works. It's just to manipulate the viewers.
via
3. To the air.
This trick is similar to the 1st one. The truth behind this magic is that the support of stick has been taken by the magician to let the woman on the air.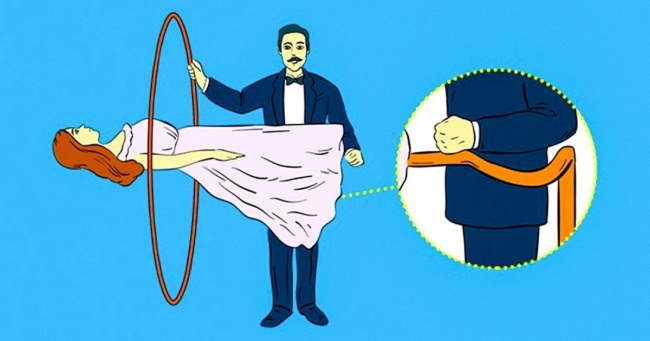 via
4. Cutting the body.
via
Read more: Perfectly Timed Pictures That Will Make You Look At Them Twice
5. The disappearing cup.
This is the major truth behind the magic trick of hiding a glass of water, that is covered with a handkerchief.
via